A NUCLEAR Truth Bomb
A man called "The Dude" Chris Dorsey of the Virginia militia drops a major nuclear truth bomb on the Orlando shooting…CALLING IT A STAGED PSYOP.
To me Orlando, like Sandy Hook, San Bernadino, etc. IS A FALSE FLAG TO COVER UP GLOBALISM!
This video is from Press TV, Iran's state news agency.  Apologies for the occasional lack of focus.
And speaking of PSYOP from British Nazi media as we are a week away from the BREXIT vote came the story of an MP in England who was gunned down by a crazed madman.  Supposedly he said "Britain First" referring to the pro-Engalnd, Anti-EU faction of people in the UK. It turns to NOT BE TRUE. Paul Joseph Watson of Infowars who is from England tweeted this…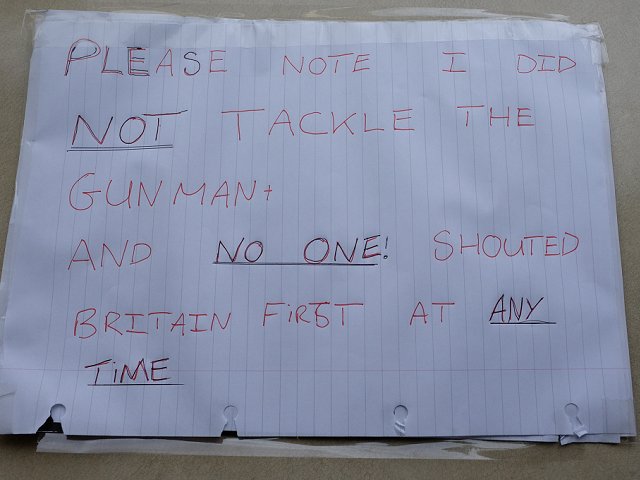 ANOTHER eyewitness says #JoCox killer DID NOT shout "Britain first".
As well as a story from Breitbart.
Two brothers of killing suspect Thomas Mair have spoken out after he was named as the suspected killer of MP Jo Cox, and media reports about his alleged right-wing views. The Times reports the remarks of Scot Mair, 49, who lives locally and who "wept" when he heard his brother had been arrested. He told the paper: "I am struggling to believe what has happened . . . He has a history of mental illness, but he has had help. I cried when I heard. I am so sorry for [Mrs Cox] and her family".

Thomas Mair's half brother, 41-year-old Duane St Louis said "He never expressed any racist views or had any issue with having a mixed-race brother". Mr. St Louis confirmed his half-brother had mental issues but said they were limited to an obsessive compulsive disorder which meant he was "obsessed with personal hygiene".
And then comes THIS Tweet.
Eyewitness tells reporters he didn't hear anyone shout "Britain first", saying: "Never heard that".
And yet the media, who clearly except for the Murdoch owned tabloid The Sun, want Britain to remain in the EU.  Likely this is a psyop staged by Bilderberg.